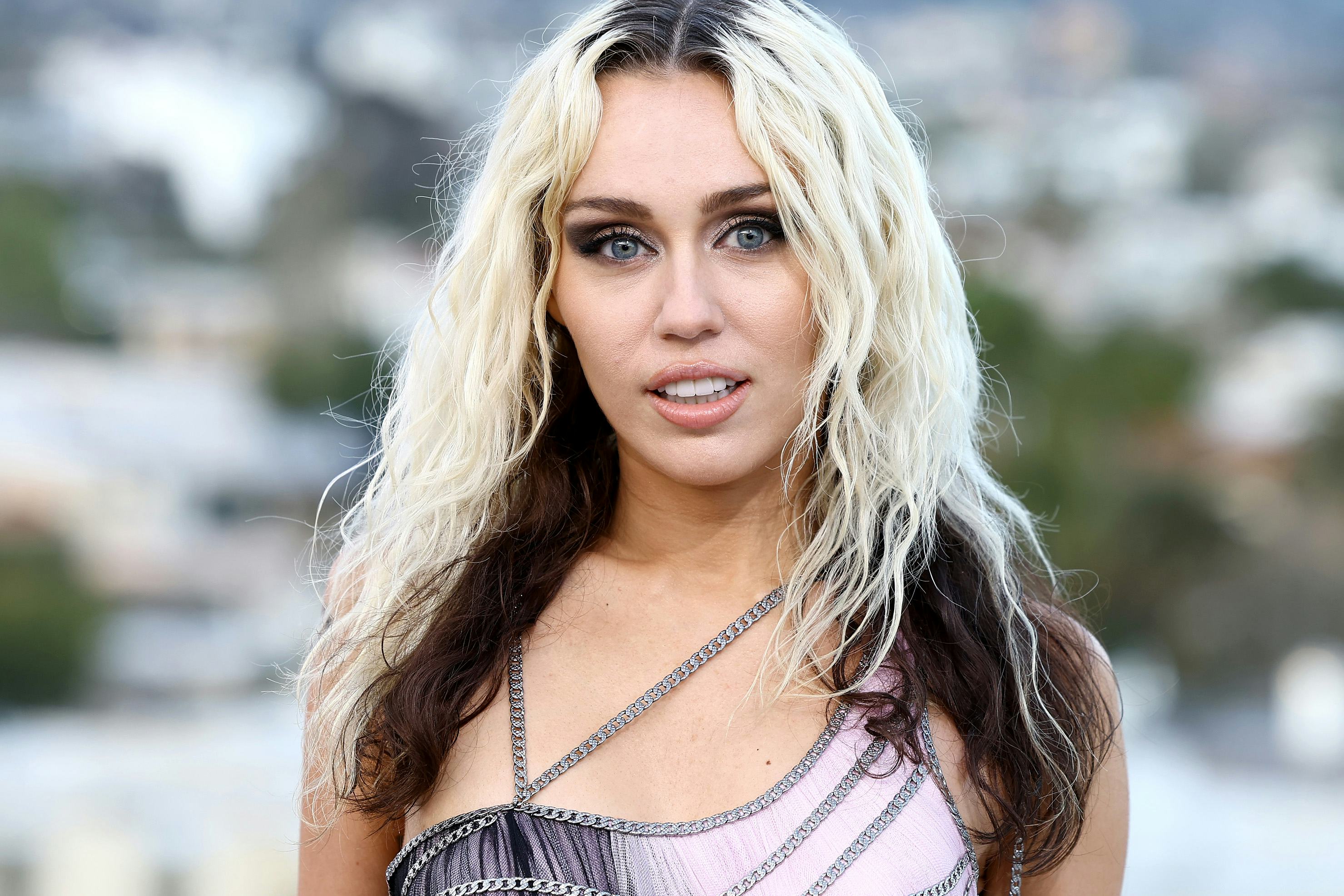 "It's f*cking nasty."
Arturo Holmes/Getty Images Entertainment/Getty Images
Miley Cyrus doesn't shy away from singing sexy songs. In her latest album Endless Summer Vacation, out on March 10, Cyrus is pushing boundaries with some "nasty" lyrics — and this isn't the first time she's gotten NSFW with her music. Cyrus' sexiest lyrics span several albums, each as raunchy as the last.
With her most recent release, the singer revealed she knows exactly what she's doing. Speaking about one of her new songs, "River," Cyrus explained in an Instagram video, "Sometimes we just need a dance floor banger, aka they don't want me to talk about the fact that the song is about [redacted]." She added, "It's f*cking nasty." Though that could mean anything, a closer look at the lyrics reveal what exactly was bleeped out from Cyrus' explanation — and it's very provocative.
This isn't the first time Cyrus has gotten dirty with her music. Here are some of her sexiest songs and NSFW lyrics.
"You" from Endless Summer Vacation
"And I wanna drive down to Texas, flip off my exes / Get kind of reckless and have wild, wild, wild sex under the moon / But only if it's with you.""I want that late-night sweet magic, that forever-lasting love / But only if it's with you."
"River" from Endless Summer Vacation
"I feel you everywhere / Your face is all in my hair (Hair) / Covered up in your sweat / It turns me on that you care, baby / Your love, it flows just like a river."
"Prisoner" from Plastic Hearts
"I tasted heaven, now I can't live without it / I can't forget you and your love is the loudest / Oh, I can't control it, I can't control it."
"Plastic Hearts" from Plastic Hearts
"Love me now, but not tomorrow / Fill me up, but leave me hollow / Pull me in, but don't you get too close, oh."
"Bang Me Box" from Miley Cyrus Her Dead Petz
"Want to lick it so much / That it's almost like I taste it on the tip of my tongue / I want to touch it so bad / That it's almost like I can feel it on my fingertips / I want yours inside of me / But don't forget where I like licking, babe / I want to make your fantasies, realities.""There ain't nothing I'm scared to try / I can be on top, or if you like it I just lie here / Take my picture / Position my body wherever you like / Just know I like it naughty. Teach me a lesson, pretend we never met / But we can keep just kissing' / Cause you're getting me so wet.""I want it so hard / You finger my heart.""You say it tastes like cake / With my lips against your face / Want you to eat it, babe."
"BB-Talk" from Miley Cyrus Her Dead Petz
"We were f*cking homies and sh*t and then / All of a sudden you started with some f*cking baby goo-goo tongue down my f*cking throat / I mean, even in front of your mom.""I just, like, you know, bury my head in your armpit which / Weirdly smells good and your hair and your f*cking teeth / Like, why the f*ck would I wanna lick your teeth? / But I do and then you remember there was that one time that I had like a 15 minute? / Oh, that was kind of the best thing in the entire world (f*ck me so you stop baby talking)."
"Milky Milky Milk" from Miley Cyrus Her Dead Petz
"The milky, milky, milk / Your tongue milking me so hard / And I'm sucking on your nipples / Licking milky, milky stars."
"#GetItRight" from Bangerz
"You're sexy sexy / I got things I want to do to you / Make me make me / Make my tongue just go do-do-do.""I been laying in this bed (this bed) all night long (all night long) / Don't you think it's time to get it on / But we gotta get it right, we can't get it wrong / Don't you want to feel this fire before it's gone yeah yeah."
"4×4" from Bangerz
"He don't understand what he's doing to me / Deep down inside like a pitbull in heat / Someone's coming, so we head for the streets."
"Naked" (unreleased)
"When I hear your name, yeah, my body shakes / Baby, ooh-ooh-ooh, we're only good when we're naked.""I feel it when you come again, that Midas touch / It's golden, I'm rolling and I lick the dutch / Can't get too much of you, of you."
Music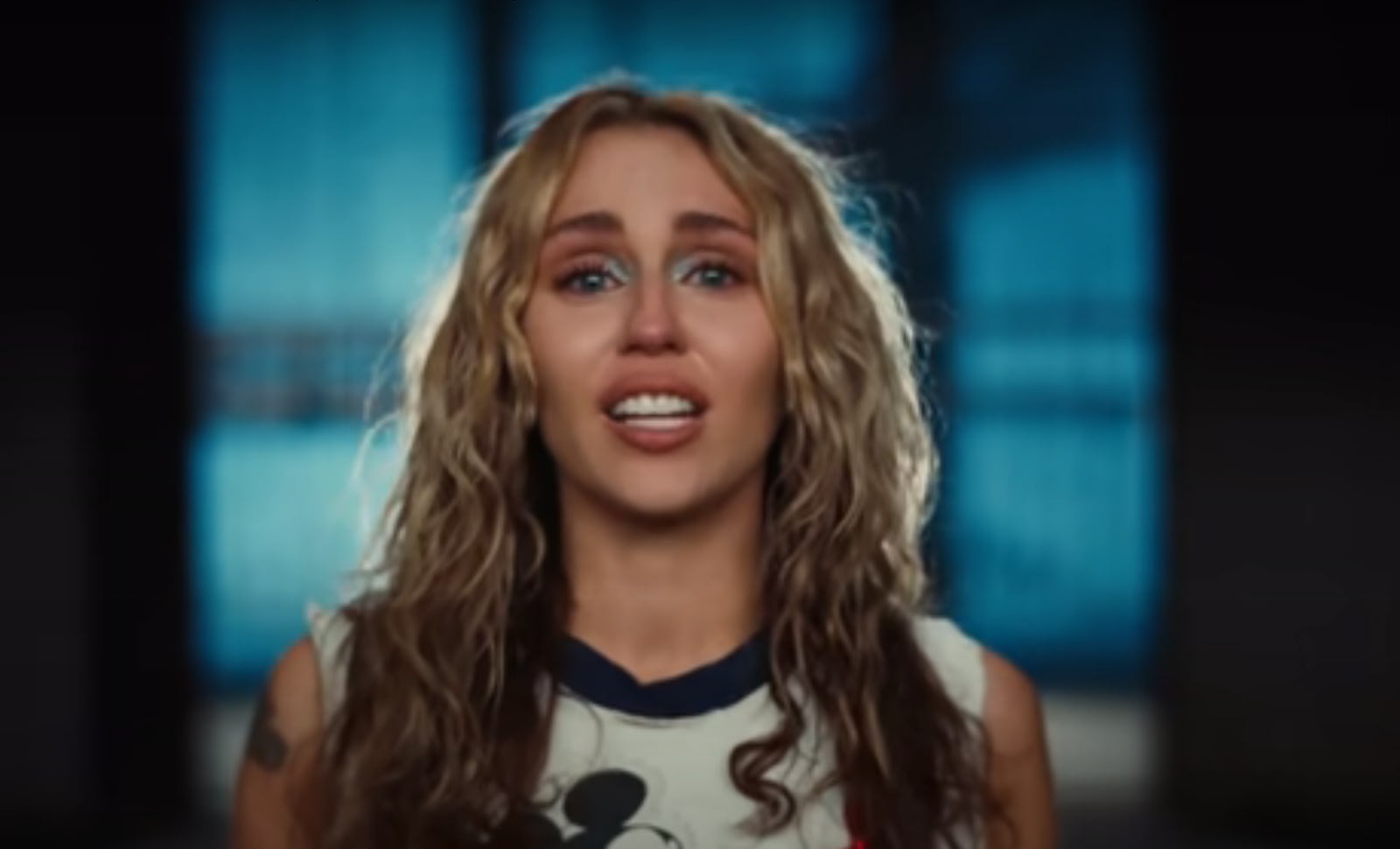 Miley Included A Subtle Disney Shoutout In Her "Used To Be Young" Video
Talk about a throwback.
Miley Cyrus' new single is all about looking back at her past, and that includes her career beginnings as a Disney teen queen. Fittingly, Cyrus paid tribute to her Disney days in the "Used To Be Young" music video with a small detail in her outfit. Though the video is intentionally simple, Cyrus made sure to throw in a Disney Easter egg to reflect the song's message.
After she'd been teasing the release of "Used To Be Young" for a few months, Cyrus finally dropped the retrospective new track on Friday, Aug. 25. The power ballad is all about Cyrus' personal evolution from her wild partygirl days to her more grounded and laid-back adult life. In theme with the song's tone, Cyrus made her emotions the star of the accompanying music video, which is simply one extended shot of Cyrus' faces as she tears up while singing the song.
Cyrus' outfit in the video was clearly an intentional nod to her past. She wears a sparkly red bustier top over a nostalgic Mickey Mouse T-shirt. The tee is a subtle shoutout to her time on Disney Channel, where she first became famous as the star of Hannah Montana.
Cyrus' history with her Disney past has been a complicated one. For several years after Hannah Montana ended in 2011, Cyrus actively distanced herself from the Disney brand, releasing the pointed kiss-off single "Can't Be Tamed" and revealing that her time filming Hannah Montana was damaging to her mental health. Throughout the 2010s, Cyrus made numerous jokes that she had murdered Hannah Montana, clearly wanted to move on from her blonde-wigged alter-ego.
But in recent years, Cyrus has begun celebrating her Hannah days once more. From sharing nostalgic clips from the show to even calling for a Hannah Montana reboot, the superstar seems to have moved passed her issues with being associated with Hannah.
And that's what "Used To Be Young" is all about. When first describing the song to British Vogue back in May, Cyrus shared that it was inspired by her negative reaction to a party song that just didn't feel like her vibe anymore. "It was like, you know, the standard f*cked up in the club track," Cyrus explained. "And I was like, 'I'm two years sober. That's not where I spend my time, you know. You're more likely to catch me and my friends literally walking through rose gardens or going to a museum.' It's not about being self-serious. I'm just evolved."